Tuesday, April 27, 2010
Please subscribe and repost this to your facebook and Twitter friends :)
You can also visit me @
truecolors.lifeyo.com
Posted by

Rob Lovegreen
at 8:48 AM
No comments:


Labels: achieve, believe, business, encourage, encouragement, faith, goals, hope, Jesus, love, positive attitude, rob lovegreen, self discipline, self improvement, spritual, success, victory, wisdom
Thursday, April 22, 2010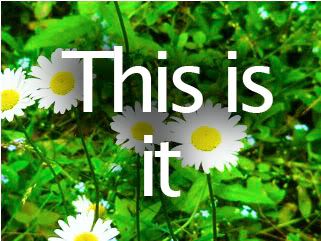 This is it!!! This is the most important time in your life. Right now! Not tomorrow, not sometime in your past. This is it! Right now! The decisions you make right now will determine your future. Right now is all your really have. Your time is so precious. Realize this, and live this moment to the max, live fully. Let your present moment be full of love, joy, peace, kindness, generosity. Be fully aware of the great things and people that God has placed in your life right now. Fully embrace them with thankfulness. Squeeze every bit of goodness out of this moment. Let your heart be overflowing with abundance. Overflowing with an abundance of love for others and this beautiful world that God has made. It's here that you will find joy and great satisfaction in life.
Please subscribe and repost this to your facebook and Twitter friends :)
Posted by

Rob Lovegreen
at 6:43 AM
No comments:


Labels: achieve, believe, business, encourage, encouragement, faith, goals, hope, Jesus, love, positive attitude, rob lovegreen, self discipline, self improvement, spritual, success, victory, wisdom